Boat Storage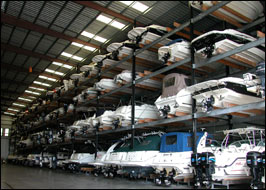 Inside dry storage,  and wet slips, (uncovered) are available to accommodate beams from 8′ to 18′ with individual 30 or 50 amp service. Transients are always welcome.
We offer dry storage for boats up to 37´ or 20,000 pounds. Wash and work racks are available with water and electricity. In and out forklifts and expert dock hands are at your service daily.
For those customers who already dry store their boat with us we have trailer storage available.
If you are planning to visit, please contact our Dockmaster George Laird.
The marina store offers most boating needs from snacks, beverages, clothing  to marina hardware. Plus you'll find a great selection of fishing tackle, anchor, ropes, safety equipment and cleaning supplies. Fishing licenses are also available, and our forklifts and store are open 7 days a week 7:30 am – 4:30 pm.
 COME VISIT OUR NEW SHIP'S STORE!!!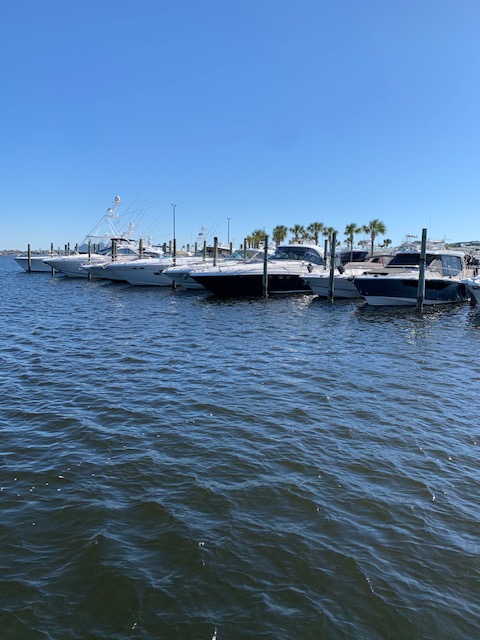 *** 24 HOUR SECURITY ***
Contact us for more information on Wet or Dry Storage and Transient slips:
Dockmaster
George Laird, 850-234-6533 x39 — [email protected]
No less than 90% of slips at this facility are available for rental by the general public (on a first-come, first-serve basis).
---
Fuel Dock – Current fuel prices –
Gas $4.60/gal  Diesel $4.45/gal
We now exclusively dispense VALVTECT Marine gasoline and VALVTECT Marine Diesel (specially formulated for your marine engine).
24-HOUR FUEL, BAIT, ICE AND SECURITY

Open 7 days a week
Free pump out with fuel purchase
We're located at 30 degrees 08.684N, 85 degrees 44.867W.
---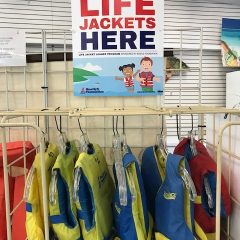 Boat U.S. Life Jacket Loaner Program
Take advantage of the Boat U.S. Life Jacket Loaner Program.
Borrow a life vest for your kids or grandkids at no cost, absolutely FREE. Infant, Child and Youth sizes available.
Visit the Ship's Store to select your loaner life vest.
---
Transient Slip Reservations     –  
Reserve your transient slip at Treasure Island Marina.