Boat Charters, Tours and Rentals
We have a fleet of Charter Fishing Boats here at Treasure Island as well as an Excursion Boats into the Gulf and by Shell Island, Dolphin Tours, Pontoon Boat Rentals, Party Fishing Boats, Scuba Diving Boats and Snorkel Trips.
Contact Shell Island Boat Rentals at 850-236-3467 for further information and reservations, or contact directly:
---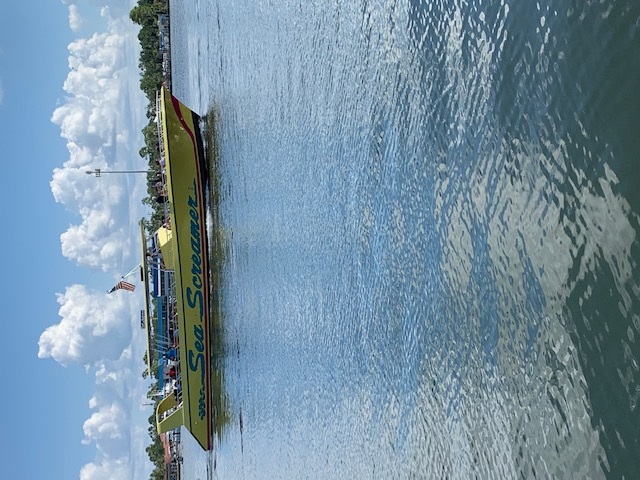 SEA SCREAMER 2
Here is the original SEA SCREAMER's newest sibling.  It's an exact duplicate of your favorite excursion vessel.  No, you are not seeing double  –  it's the SEA SCREAMER 2!!  Call 235-3000 for information & reservations.
---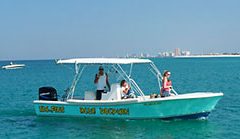 Blue Dolphin Tours
Swim with Dolphins, explore Shell Island for shells and snorkel. Your personalized private tour guide is also a Certified Coast Guard Captain and expert on local waters. Contact Blue Dolphin Tours today to schedule your tour!
---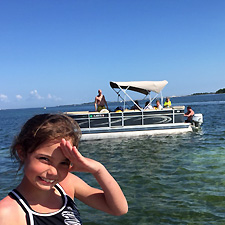 Pontoon Boat Rentals
Only 10 minutes from Shell Island. You are the Captain and can find your own private beach. New clean boats with swim ladders and area maps. Also, NOW AVAILABLE, Boston Whaler small Fishing Boats. Email now for more information! bostonwhalerrentals.com
---
THE NEWEST MEMBER TO OUR TOUR BOAT FLEET:
PCB Cruisin Tikis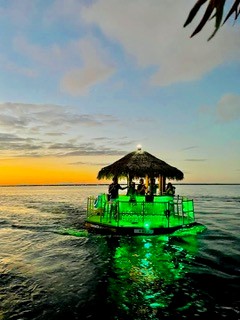 Cruisin Tikis PCB – Cruisin Tikis is the Original Tiki tour boat.  Our authentic handcrafted tikis offer a variety of boat tours day and night with a USCG Captain so everyone can have fun!  Call 850-810-4700 for details and reservations. cruisintikispanamacity.com
---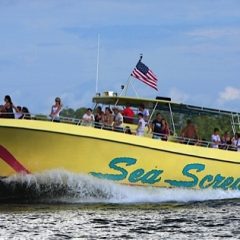 Sea Screamer Cruises
Daytime Trips, Sunset Cruises, Snorkel Trips, Dolphin Tours and just plain Water Fun all aboard this gigantic bright yellow speed boat. All cruises 2 hours long! Call 850-235-3000 or 850-233-9107 for reservation information and cruising times. www.seascreamer.net
---
Charter Fishing Fleet
Our Charter Fishing Fleet ranges from inshore flats and bay fishing boats to offshore deepwater Charter Fishing Boats for 4,6,8 hour or overnight trips. All of the charters are Coast Guard inspected and approved and offer a wide range of fishing options. The following is a list of the boat names and phone numbers to call for information and reservations.
Charter Boats
Boat

Captain

Phone

Boxfull
Boxfull Charters Website
Buddy Dortch
850.896.8371
Cuda
Bill Creamer
850.814.8784
Fresh Start
Joseph Krawczynski
850.545.0887
Gotta Believe
Bobby Robinette
850.234.9409
Maggi
Larry Martin
850.867.8391
Narcosis – Dive Locker
Bob Boutwell
850.230.8006
Reel GrooV
Gary Stanfill
850.774.9007
Reel Contender
Reel Contender Website
David Burke
850.259.2789
Reel Fun
Reel Fun Website
Terry McGowen
850.896.2580
Semper Fi
Eric Wilkas
850.730.7994
Shelia Marie
Shelia Marie Website
Chris Brooks
850.348.2303
Southern Hooker
Southern Hooker Website
Nicholas Eyles
850.586.1758
Steel Slinger
Steel Slinger Website
Pat Green
850.588.8077
Tide Up
Richard Dixon
850.252.7071