Boat Charters, Tours and Rentals
We have a fleet of Charter Fishing Boats here at Treasure Island as well as an Excursion Catamaran to Shell Island, Dolphin Tours, Pontoon Boat Rentals, Party Fishing Boats, Scuba Diving Boats and Snorkel Trips.
Contact Shell Island Boat Rentals at 850-236-3467 for further information and reservations, or contact directly:
---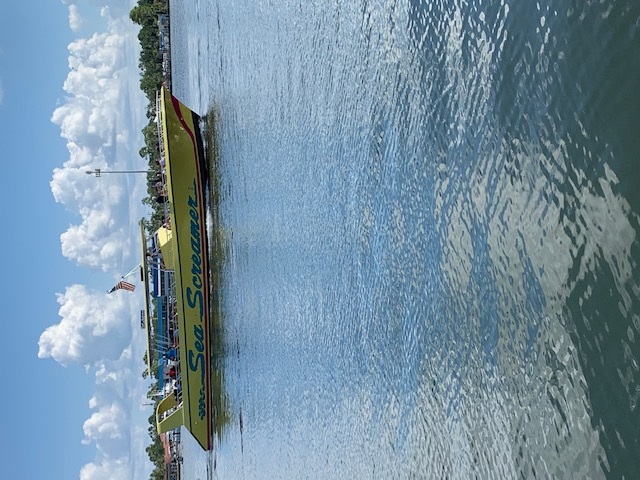 THE NEWEST MEMBER TO OUR TOUR BOAT FLEET:
SEA SCREAMER 2
Here is the original SEA SCREAMER's newest sibling.  It's an exact duplicate of your favorite excursion vessel.  No, you are not seeing double  –  it's the SEA SCREAMER 2!!  Call 235-3000 for information & reservations.
---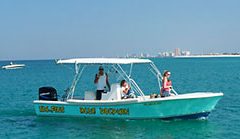 Blue Dolphin Tours
Swim with Dolphins, explore Shell Island for shells and snorkel. Your personalized private tour guide is also a Certified Coast Guard Captain and expert on local waters. Contact Blue Dolphin Tours today to schedule your tour!
---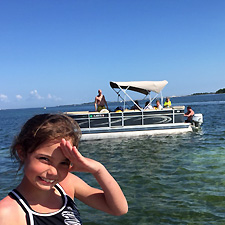 Pontoon Boat Rentals
Only 10 minutes from Shell Island. You are the Captain and can find your own private beach. New clean boats with swim ladders and area maps. Also, NOW AVAILABLE, Boston Whaler small Fishing Boats. Email now for more information! bostonwhalerrentals.com
---
Island Time Sailing Charters
Swim with Dolphins, shell and snorkel all aboard the this beautiful Sailing Catamaran. 2 hour and 3 1/2 hour cruises available. Call 850-234-7377 or e-mail us at [email protected] for further information.
---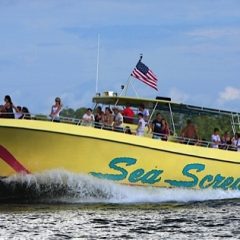 Sea Screamer Cruises
Daytime Trips, Sunset Cruises, Snorkel Trips, Dolphin Tours and just plain Water Fun all aboard this gigantic bright yellow speed boat. All cruises 2 hours long! Call 850-235-3000 or 850-233-9107 for reservation information and cruising times. www.seascreamer.net
---
Charter Fishing Fleet
Our Charter Fishing Fleet ranges from inshore flats and bay fishing boats to offshore deepwater Charter Fishing Boats for 4,6,8 hour or overnight trips. All of the charters are Coast Guard inspected and approved and offer a wide range of fishing options. The following is a list of the boat names and phone numbers to call for information and reservations.
Charter Boats