Blog Archives:
Archive Results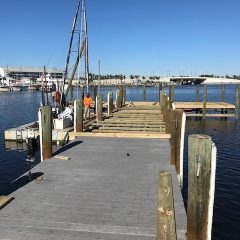 Posted on January 3, 2019 by Treasure Island Marina
WE ARE CONTINUING TO MOVE FORWARD AFTER THE DAMAGE WE INCURRED FROM HURRICANE MICHAEL.  WE HAVE HAD OUR THREE DAMAGED BUILDINGS TORN DOWN AND ARE HOPEFULLY JUST THREE WEEKS AWAY FROM HAVING OUR FUEL DOCK COMPLETELY REBUILT AND OPERATIONAL AGAIN.… Read More
Comments Off on Hurricane Michael aftermath progress
Posted on August 28, 2018 by Treasure Island Marina
The Treasure Island Marina King Mackerel Tournament for this year has been cancelled. There will be no 2018 Tournament.  Sorry for any inconvenience this may have caused.
Comments Off on King Mackerel Tournament